CALLS FOR GOVERNMENT TO SUPPORT RURAL WOMEN AS THEY FEED THE WORLD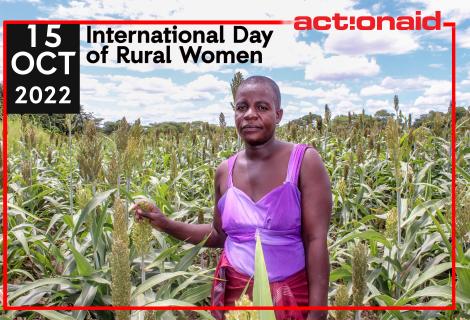 Press Statement
Harare -15 October 2022 – ActionAid Zimbabwe (AAZ) joins the rest of the world in commemorating the International Day of Rural Women, themed, "Rural women cultivating good food for all". On this day, we call upon the Government of Zimbabwe (GoZ) to ensure its policies, resources, and priorities are channelled towards the support of women in rural areas to ensure food security against the threat of climate change.
Despite our planet's capacity to provide sufficient and good food for all, hunger, malnourishment, and food insecurity are affecting many parts of the world, Zimbabwe included, and up to 811 million people, represented by 1 in 10 of the global population do not have sufficient food (World Food Programme Hunger Map 2021). Women make significant contributions to agricultural production, food security, and nutrition, through either paid or unpaid labour thus feeding their families, communities, and the world at large. However, women's contribution to food security is negatively impacted by unpaid care work and this is exemplified in Zimbabwe where women spend 6,5 hours of unpaid care and domestic work, more than four times than men (1,6 hours) than men (Zimbabwe National Policy Brief of 2020 – an analysis from the ActionAid International Who Cares Report for the Future: Finance Gender Responsive Public Services, 2020)
Women also face significant discrimination in owning land and livestock, they do not access equal remuneration and have limited participation in decision-making, and access to resources such as land, credit, and markets. As we observe the International Day of Rural Women, we are reminded that achieving gender equality and empowering women is not only the right thing to do but is a critical ingredient in the fight against extreme poverty, hunger, and malnutrition. Providing women with the same opportunities as men could rise agricultural production and this includes addressing women's access to gender-responsive public services key in achieving the United Nations Sustainable Development Goal (SDG) 2 of Zero Hunger and SDG 5 of Gender Equality.
Government policy should also seek to address the effects of climate change on smallholder farmers in relation to other productivity problems that rural women farmers face. Chief among these policies is the need to have services that meet farmers' needs such as green alternatives like agroecology. These services should be gender-responsive and meet the needs of specific groups such as women and youth, persons with disabilities, and other marginalised groups.
AAZ acknowledges the efforts by the Government in supporting agroecology practices as it aims to improve food security following climate-induced droughts. However, more can be done. AAZ, therefore, calls upon the GoZ to consider the following recommendations:
1. To improve budget allocations for the agriculture sector with increased focus on the marginalised groups of women especially those in rural areas and further advocate for climate financing from the global north and corporates to fund feminist green agriculture alternatives
2. Increase budget allocations towards public service delivery to reduce unpaid care work for women to allow them to engage in more productive work.
3. Strengthen policies that support green alternatives such as finalising the Agroecology Policy and allocate adequate resources for its rollout to support smallholder farmers with a particular focus on women and youth
For more details please contact: ActionAid Zimbabwe Country Director, Joy Mabenge: Email joy.mabenge@actionaid.org or Mobile +263 772904479
Twitter: https://twitter.com/ActionAidZim
Facebook: https://www.facebook.com/ActionAidZimbabwe/
Website: https://zimbabwe.actionaid.org/
ENDS//