Government Urged to Ensure Meaningful Youth Participation across Spheres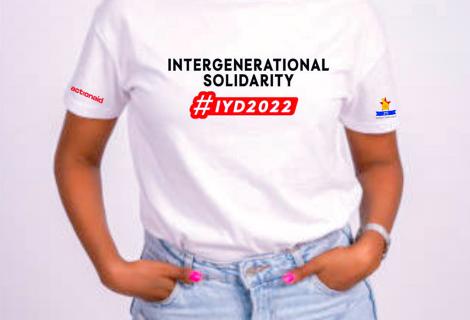 Press Statement
Harare-12 August 2022-ActionAid Zimbabwe (AAZ) joins the rest of the world in commemorating International Youth Day (IYD) running under the theme 'Intergenerational Solidarity: Creating a World for All Ages'. On this day, AAZ calls upon the government to ensure meaningful participation of youth in decision and policy making through implementation of local, regional, and international protocols on youth inclusion in national processes such as budgeting, resource allocation, electoral processes, and the economy.
Celebrated on 12 August each year, the International Youth Day was established by the United Nations in 2000 as a means of raising awareness of issues affecting young people around the world. To achieve the Sustainable Development Goals (SDGs), the world needs to leverage the full potential of all generations. Solidarity across generations is key for sustainable development to foster successful and equitable intergenerational relations and partnerships to ensure "no one is left behind."
The Global Report on Ageism released by the United Nations in March 2021 highlights the various data gaps that are in existence. Young people continue to report age-related barriers in various spheres of their lives such as in employment, political participation, health, and justice systems. In Zimbabwe, youth (who are below the age of 35) constitute 67.7% of the country's population yet this group has continued to bear the brunt of social, economic, and political exclusion, and vulnerability as witnessed through high unemployment, low levels of political representation and lack of opportunities.
It is against this background, that AAZ implores the government to deliver on the provisions of the 2020-2025 Zimbabwean National Youth Policy (NYP) with a closer look on Thematic Area 2 on employment and entrepreneurship and Thematic Area 3 which guarantees youth participation in governance processes.
Regrettably, the 2022 commemorations are being conducted against an unfavourable political, social, economic, and environmental landscape for young people in the country. Young people have emerged as one of the most vulnerable groups hit hardest by the political and macroeconomic challenges. These include high unemployment, insufficient political representation, lack of participation in governance and developmental processes, and limited access to life opportunities and means of production.
Youth play a significant role in the shift between one generation to the other. This requires for all societies to empower youth. There is a need to enact deliberate policies that lead to the creation of sustainable livelihoods for disempowered youths. As we commemorate the International Youth Day, it is critical for the nation and duty bearers to note the following issues:
Causes for concern
• Limited meaningful participation and representation in decision-making, electoral, budgeting, and resource allocation processes.
• Rising cost of living affecting particularly unemployed young women and girls denying them access to menstrual hygiene management tools.
• High rate of unemployment leading to negative copying mechanisms, including drug abuse and substance abuse.
Recommendations
1. The Government of Zimbabwe (GoZ) needs to foster and implement policies that ensure proportional and adequate representation of youth through harnessing the demographic dividend and participation of young people in all spheres of life
2. GoZ should urgently tackle the high unemployment rate and create employment opportunities for the young people to develop and reach their full potential.
For more details please contact:
ActionAid Zimbabwe Country Director, Joy Mabenge: Email joy.mabenge@actionaid.org or Mobile +263 772904479
Twitter: https://twitter.com/ActionAidZim
Facebook: https://www.facebook.com/ActionAidZimbabwe/
Website: https://zimbabwe.actionaid.org/
ENDS//