ActionAid Zimbabwe scoops SDG and Community Impact Award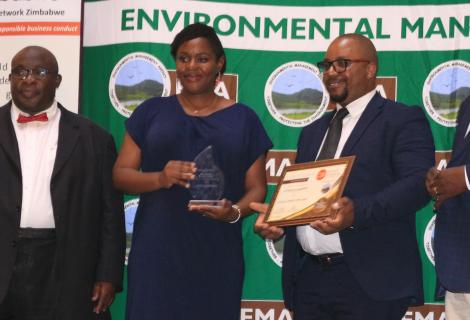 Its works speaks to 9 Sustainable Development Goals
ActionAid Zimbabwe (AAZ) has been accorded one of the top 20 organisations effectively implementing the Sustainable Development Goals (SGDs) and contributing meaningfully to the communities of Zimbabwe under the Corporate Social Responsibility National Awards 2019.
AAZ Head of Programmes and Resource Mobilisation, Andrew Chikowore and Women Rights and Economic Justice Manager, Rumbidzai Makoni received the award entitled "Sustainable Development Goals and Community Impact Award" on behalf of the organisation in Harare on 21 November 2019. The award was conferred by the Corporate Social Responsibility (CSR) Network Zimbabwe working in partnership with the Environmental Management Agency (EMA).
This is the second time AAZ has received an award to recognise its work in the country. In September 2019, AAZ received yet another CSR Network award in Manicaland Province, where it was awarded as one of the top organisations implementing the SDGs in Manicaland and its contribution to Cyclone Idai Response. The National CSR Network Awards Handover Ceremony was held at the Harare International Conference Centre (HICC) and was officially opened by the Minister of Industry and Commerce Sekai Nzenza. Over 300 guests representing various organisation attended the ceremony.
"For one to be awarded the SDG and Community Impact Award at national level, we looked at how they are promoting Corporate Social Responsibility, if they are ploughing back to the community and other tenets like running of good business models, showcasing community impact in the areas of health, education, the SDGs, arts and innovation," said Willard Ruzawo, the Chief Executive Officer for CSR Network Zimbabwe.
Running under the theme: "Shaping Responsible Business Towards the attainment of Vision 2030," the CSR Network awards are based on the contribution being made by individuals, private, civic society, media and public sectors towards the promotion of the Government's Vision 2030 and SDGs. Officially opening the Awards Handover Ceremony, Minister Nzenza said: "Partnerships with the various sectors such as private and business are critical to the government as it makes it possible to meet the requirements of the SDGs in which Zimbabwe is signatory to."
Head of Programmes for AAZ Chikowore said he was humbled that the organisation continues to be appreciated for its work nationally.
"ActionAid Zimbabwe Vision and Mission work speak directly to nine SDGs such as: SDG 1 on NO Poverty, SDG 2 on ZERO Hunger, SDG3 on Good Health Being, SDG4 on Equality on Education, SDG5 Gender Equality, SDG 6 on Water and Sanitation, SDG 8 on Decent work and Economic justice, SDG11 on Sustainable cities and communities and SDG 13 on Climate Action," said Chikowore.
AAZ Vision is a just, equitable and sustainable Zimbabwe in which every person enjoys the right to a life of dignity, freedom from poverty and all forms of oppression. Its Mission is to work with people living in poverty and exclusion to achieve Social Justice, Poverty Eradication and Gender Equality.
AAZ works to strengthen the capacity and active agency of people living in poverty and exclusion especially women and girls to assert their rights. It implements programmes in partnership with community-based organisations, national and international NGOs, civic society organisations (CSOs) and like-minded organisations in and outside Zimbabwe.
ActionAid Zimbabwe has a geographical footprint in nine Local Rights Development (LRP) and project areas across five provinces in Zimbabwe namely Manicaland, Mashonaland Central, Mashonaland West, Matabeleland North and Harare. A total of 71611 people comprising 41972 females and 29639 males were reached by AAZ priority interventions in the five provinces in 2018