ActionAid Zimbabwe wins Sustainable Development Goals Award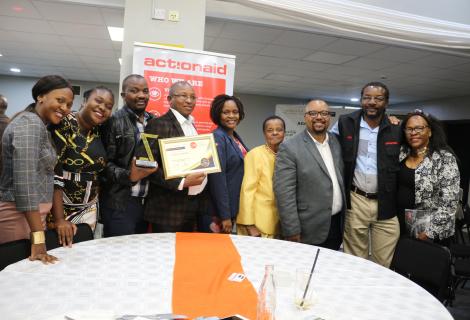 For impact made in Cyclone Idai Response
ActionAid Zimbabwe was on 13 September 2019 awarded the Best Non-Governmental Organisation (NGO) for implementing Sustainable Development Goals (SDGs) in communities of Manicaland in particular the impact it has made in its Women Led Cyclone Idai Response Programme in Chimanimani and Chipinge. The award came from the Corporate Social Responsibility Network Zimbabwe (CSR Network Zimbabwe) under its 2019 Responsible Business and Corporate Social Responsibility Awards for Manicaland.
Handing over the award to ActionAid Zimbabwe and Cyclone Idai Response partner teams that attended the award ceremony which took place in Mutare, Director in the Ministry of State for Provincial Affairs for Manicaland, Terence Machocho said: "The award to ActionAid Zimbabwe has been inspired by the organisation's immense contribution and involvement in the upliftment of people and communities of Manicaland especially its support towards survivors of Cyclone Idai,". Mr. Machocho was speaking on behalf of Dr. Ellen. Gwaradzimba who is the Minister of State and Provincial Affairs for Manicaland.
Running under the theme: "Shaping Responsible Business Towards the attainment of Vision 2030," the awards were organised by the CSR Network. The awards are based on the input being made by individuals, private, civic society and public sectors towards the promotion of the Government's Vision 2030 and SDGs. CSR Network is an NGO which is aimed at raising awareness, build capacity, promote and support the development and implementation of best Corporate Social Responsibility practices in the public and private sectors in Zimbabwe.
Speaking soon after receiving the award, ActionAid Zimbabwe Country Director Joy Mabenge said: "We are implementing Early Recovery Cyclone Idai Response Programme and have reached close to 7 000 people affected by the Cyclone Idai disaster in partnership with community-based organisations such as Jekesa Pfungwa Vuliqondo and Simukai Child Protection Programme. "We are focusing on our humanitarian signature which looks at three areas namely; Women Leadership, Accountability and Shifting power. Women are taking lead because they are the ones most affected by emergencies. We are accountable to our stakeholders and communities as part of our values to promote transparency. We are ensuring that we shift power to women and community-based organisations by letting them take lead to ensure sustainable and resilience livelihoods."
ActionAid distributed food and non-food items in March 2019 as part of the organisation initial response under its Women Led Cyclone Idai Response. The food items were beans and oils while the non-food items such as girls and women underwear and towels, soap and buckets, household utensils such as pots, plates and cutlery and blankets were distributed. Jekesa Pfgungwa and Simukai Child Protection Programme with support from ActionAid Zimbabwe, in launched the Early Recovery Women Led-Cyclone Idai Programme in Chimanimani and Chipinge in April 2019. They are focusing on psychosocial support and protection, water and sanitation, transitional shelter provision, rehabilitation of classroom blocks, maternity linen provision, livelihoods, food and nutrition programmes in affected communities. The programme has facilitated the establishment of five safe spaces in the wards of operation where women are meeting and are accessing counselling services.
The partners have taken lead in the construction of wooden shelters for 20 households addressing safety of women, reduction on gender-based violence and right to shelter. The programme has seen the rehabilitation of eight boreholes in Chipinge and spring protection in Chimanimani for affected communities to address access to water for women who have the burden of looking for water at household level. ActionAid and partners have established a water reticulation system at Saziya Clinic in Chimanimani by installing a water tank and water taps ad pipes to provide drinking and running water at the clinic. The ActionAid partners have facilitated the provision of linen for maternity wards at Biriri Health Centre in Chipinge.