Advocacy for gender sensitive agricultural policies at Agricultural Show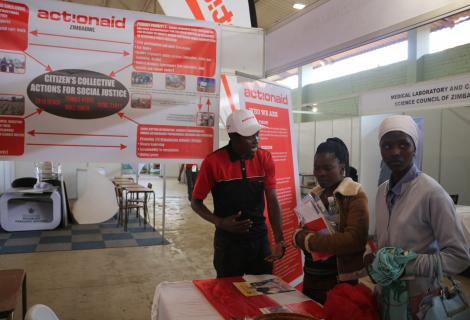 Zimbabwe Aricultural Show 2019
ActionAid Zimbabwe (AAZ, inspired by its feminist approaches, participated in the 2019 Zimbabwe Agricultural Show (ZAS) Exhibition from 19 to 24 August 2019. The focus of the participation was on the promotion of agricultural policies which promote resilient livelihoods for women and at the same time reducing the burden of unpaid care work on them.
Women provide the bulk of the agricultural labour in Zimbabwe which is largely unpaid labour due to the patriarchal practices in Zimbabwe. To address this, AAZ has been pushing for sustainable agricultural policies and practices to improve women's' livelihoods, facilitate the redistribution, recognition and reduction of unpaid care work on women.
"If government provides quality gender sensitive services such as water for domestic use and agricultural purposes, it reduces the time women spend on household chores and in the field and they can now actively participate in the marketing of their produce, which is normally done by men. If women take less time in household work and providing labour in the field, they can at least have time to be actively engaged in decision-making processes in their community," said Joy Mabenge, ActionAid Zimbabwe Country Director.
"As ActionAid Zimbabwe, our mission is to work with people living in poverty and exclusion, the bulk of whom are women and other vulnerable groups like youths in Zimbabwe, to achieve poverty eradication, gender quality and social justice. Our interest in the Harare Agricultural Show is to continue to push for the promotion of agro-ecology practices which promote resilience building for communities and the increase in the women's access to markets and income," said Mabenge.
The ZAS is one platform we want to see women utilise for market linkages," added Mabenge. Provision of women friendly agricultural policies is in line with AAZ's Citizens' Collective Actions for Social Justice Strategy for 2018-2023 which was popularised at the organisation's exhibition stand which was situated in the Rajiv Ghandi Hall.
Open this link to read more about our strategy: https://zimbabwe.actionaid.org/publications/2019/actionaid-zimbabwe-cou…
The thrust to ensure that there are gender sensitive agricultural policies, forms part of the Expanded Bill of Rights which focuses on socio-economic rights as enshrined in the Constitution of Zimbabwe.
The 109th edition of ZAS ran under the theme "Technology, Innovation and Modernisation". As AAZ, we have embraced a culture of innovation and technology in our programmes including our agro-based initiatives which improve smallholder women farmers effectiveness and market competitiveness. For example, mobile phone applications that provide farmers' access to information and markets. ZAS is a national annual event that is held in Harare in August every year. This platform provides an opportunity for entities to exhibit and market their products and services which support the agriculture sector in the country. The 2019 Harare Agricultural show recorded a patronage of 221 651 representing a 19.6 increase as compared to 2017 according to ZAS. A total of 150 people passed through the AAZ stand.