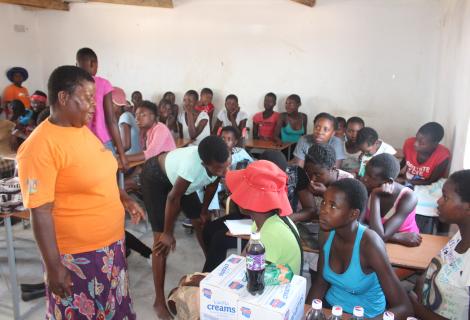 As we reach out to adolescent girls in an informal town in Zimbabwe
By Malvin Rupapa, Monitoring and Evaluation Officer, AIDS Counselling
Trust Rachel Musemba (48) is one of the community volunteers working under the Empowered Adolescent Girls for Improved Quality of Life Programme implemented in Hopley, an informal town in Zimbabwe situated south of Harare. Rachel is implementing the behaviour change programme using tools called Anti Stella and Stepping Stones, touted to change the lives of many adolescent girls in one of the poorest informal towns of Zimbabwe. The adolescent girls are ranging from 9 to 17 years.
Hopley lacks the most basic services such as sanitation, schools and adequate health facilities and has become an area of extreme poverty and marginalization. The life of children and youth in this area is extremely hard. Many children are orphaned and must fend for themselves and the younger members of the household and even those who have parents or other guardians must often contribute to the household income at an early age where many children are being sexually exploited, including children as young as nine years old. This has led to further vulnerabilities including sexually transmitted disease (STIs), early pregnancy, abuse of drugs and other substances as a means of coping with a life that no child or young person should have to endure.
Against such a background, Rachel is leading a group of 30 vibrant adolescent girls whom she mobilized, and they have since October 2019 begun conducting sexual reproductive health rights (SRHR) sessions every Saturday in the community using the Anti Stella and Stepping Stones tools for behaviour change.
With Hopley being one of the most vulnerable communities in Zimbabwe, especially adolescent girls, Rachel is confident that the Empowered Adolescent Girls for Improved Quality of Life programme will bring about positive livelihood change to the girls in the community.
She said: "The tools that we are using such as Stepping Stones directly address the core problems of our community, especially violence against women and girls."
Rachel has received training from AIDS Counselling Trust (ACT), an ActionAid Zimbabwe partner. ACT specialises on behaviour change communication tools such as the Auntie Stella and the Stepping Stones. These tools have been proven to yield positive results in creating assertiveness in adolescents. The Auntie Stella approach is highly participatory, provides guidance on how to discuss Sexual and Reproductive Health with adolescents of different age groups. The Stepping Stones methodology interrogates factors that perpetuate violence against women and girls (VAWG).
Shel said: "The Anti Stella and Stepping Stones tools will empower the adolescent girls. The programme has started on a high note, as characterized by the turnout of children for sessions. This has an impact to the delivery and success of the programme since the Hopley community was eagerly waiting for such as programme."
Rachel is one of the 17 female volunteers who have a target of working with 30 adolescent girls each in Hopley by July 2020. ACT is also working with eight male volunteers with a target of working with 27 boys each.
The Empowered Adolescent Girls for Improved Quality of Life Programme aims at addressing VAWG, Comprehensive Sexuality Education and Economic Empowerment. ACT is working in Hopley in partnership with Forum for African Women Educationalists Zimbabwe Chapter (FAWEZI) and Leonard Cheshire Disability Zimbabwe (LCDZ) who both have unique contributions to the programme. FAWEZ uses an approach called Tuseme or speak out which empowers adolescents to define their problems and find solutions to them while LCDZ ensures the mainstreaming of disability issues in the programme.