Lean season assistance programme in Makoni in response to climate induced drought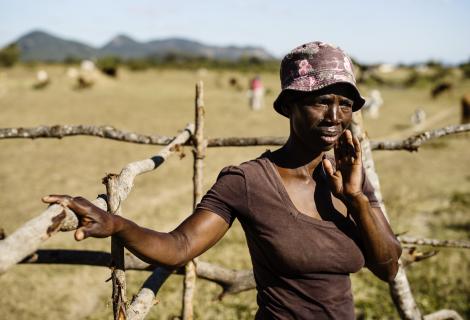 ActionAid Zimbabwe supported by World Food Programme
By Barnabas Halimani, ActionAid Lean Season Assistant Programme Monitoring and Evaluation Officer
ActionAid Zimbabwe (AAZ) with support from the World Food Programme (WFP) is introducing a Lean Season Assistance (LSA) Programme in 10 Wards in Makoni District of Manicaland reaching 50591 vulnerable people from October 2019 to April 2020. The 2019/2020 LSA Project seeks to mitigate short-term (transitory) food insecurity in Makoni District during the peak of the hunger period (October 2019 to April 2020).
The programme will be in form of a food basket given at household level and corn-soya blend porridge which will be distributed to lactating mothers and children under five years. The food programme will be complemented by livelihood activities aimed at strengthening community resilience for future shocks and stresses. This will also enable households to expand their capacities for either owning production or diversification of livelihoods.
Complementary activities include training on nutrition (such as healthy harvest and Infant Young Child Feeding), conservation agriculture, income generation activities (small business management), aquaculture, small livestock husbandry, to mention a few.
Speaking at the Inception of the LSA Programme on 20 September 2019, AAZ Head of Programmes and Fundraising, Andrew Itai Chikowore said: "ActionAid Zimbabwe will work with key government departments to ensure the entire basket of activities is implemented effectively, while also building sustainability by ensuring activities are owned and championed by the relevant government line ministries and sector department with the natural mandate."
AAZ will ensure that women lead the various committees for selection and distribution as part of ActionAid Humanitarian Signature on promoting women led emergencies," added Chikowore. From the project identification stage, women participate in the identification and selection of complementary activities. During subsequent stages of project implementation, women will be accorded equal opportunities in decision-making and especially the assumption of leadership positions (within food distribution committees).
According to the 2019 Zimbabwe Vulnerability Assessment Committee (ZIMVAC) survey results, Manicaland is projected to have one of the highest food insecure population in the country. Approximately 175,285 people will be food insecure during the peak hunger period, with Makoni District accounting for part of this population. Erratic rainfall and dry spells from October to March have diminished crop production, increasing the likelihood of depletion of household food stocks earlier than usual and triggering an early start of the 2019-2020 lean season assistance programme. The last significant rains in Zimbabwe were received in March 2019 in form of the Cyclone Idai disaster which resulted in the deaths of people and massive destruction of livelihood and infrastructure.