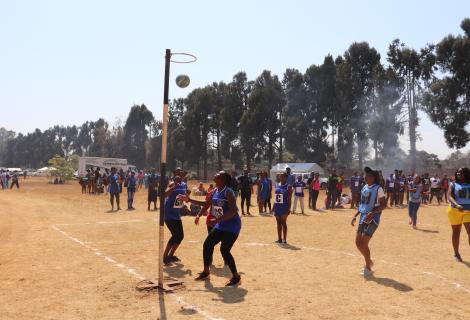 ActionAid Zimbabwe teams leave an impression
It was a fun filled day as ActionAid Zimbabwe (AAZ)  joined hands with other organizations and participated in the 2019 NGO Games held on the 31st August at Barclays Sports Complex in Mount Pleasant Harare. The annual NGO games are held once every year in Harare. This platform provides an avenue for both International NGOs (INGOs) and local NGOs to come together for a common good and compete in various sporting disciplines with the proceeds going towards an identified charitable cause.
Each year, different organizations volunteer to coordinate that year's games and the 2019 games were coordinated and hosted by Save The Children Zimbabwe. The games encourage the active participation of staff in fun and healthy physical activities according to their interests and abilities. They enable staff from various organizations to network and relax and take them out of the routine work environment.
Participation of staff in the games improves work relations and communication back at work, leading to better understanding of instructions and ultimately leading to improved results and deliverables. Organizations were asked to submit team members for the different games. AAZ staff and Activista Zimbabwe teams represented ActionAid. Games were professionally umpired and refereed.
The ActionAid sports teams showed potential and competitiveness in the various disciplines that they participated. AAZ teams competed in soccer, netball, volleyball and tennis. The soccer team put up a spirited performance winning one and drawing one. In the tennis men's category, AAZ came second after losing the finals to Mercy Corps. The volleyball and netball teams were also knocked out in the preliminary stages of the games. Staff got to understand that winning or losing the games was not the objective, but that they had opportunity to network in a fun filled environment and at the same time fundraising for vulnerable groups of society.