Partnering to Empower Adolescent Girls for Improved Quality of Life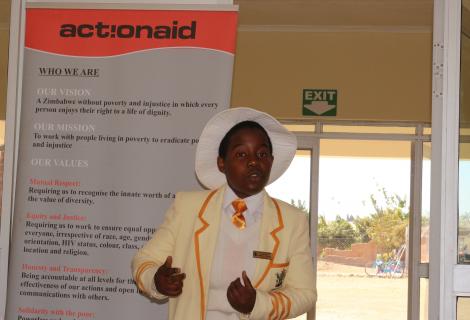 By Nqobile Nkiwane, Information and Communications Officer, Forum for African Women Educationalists (FAWEZ)
ActionAid Zimbabw (AAZ) in partnership with Forum for African Women Educationalists (FAWEZI), Leonard Cheshire Disability Zimbabwe (LCDZ) and AIDS Counseling Trust (ACT) held a series of stakeholder meetings in three districts (Shamva in Mashonaland Central, Hopley and Chitungwiza both on outskirts of Harare) to introduce a new project titled "Empowered Adolescent Girls for Improved Quality of Life".
< The stakeholder meetings were held from 23 to 25 July 2019 as a spring board to the 14-month implementation of the joint intervention. This project aims to increase empowerment and improved quality of life among adolescent girls in Shamva, Chitungwiza and Hopely by implementing unique best practices and models to address three areas: Violence against Women and Girls (VAWG), Comprehensive Sexuality Education (CSE) and Economic Empowerment (EE).
During the meetings, the consortium sought to introduce the project and partners, gain understanding of the projects that are already running in the specific areas and identify the existing referral pathways that would be essential during the implementation of the project. The stakeholder meetings were an eye opener to the representatives of the partner organizations as they learnt of the different levels of awareness on issues of VAWG, CSE, and EE in the different districts and also the diverse organizations which are already implementing other projects in these districts. In all the districts, the meetings were attended by the District Development Coordinators, District Schools Inspectors, and representatives from the Social Welfare, Police Victim Friendly Unit, Health departments, religious organizations and other Non-Governmental organizations operating in the areas.
The representatives of the four consortium members also took turns to give background information about their individual organizations explaining their roles in the project. Each of the partners is bringing in a unique expertise so at to achieve the intended desired outcome. AAZ will facilitate Households Economic Strengthening (HES) and Economic empowerment interventions to reduce adolescent girls' vulnerability through building economic resilience and expanding economic opportunities for households of adolescents. This will be done through tested Livelihoods instruments like the Internal Savings and Lending Schemes (ISALS) as an entry-point for layering HES and wrap-around adolescent girls support services.
FAWEZI will bring in a girls empowerment program called 'Tuseme –Taura Unzwike –Khuluma uzwakale empowerment programme, which uses theatre-for-development techniques to address concerns that hinder girls' social and academic development. This will be used to train girls to identify and understand the problems that affect them, articulate these problems, and act to solve them whilst also gaining, life skills, and self-confidence, decision-making, and leadership skills.
ACT will specialise on behaviour change communication tools namely Auntie Stella and the Stepping Stones. These tools have been proven to achieve positive results in creating assertiveness in adolescents. The Auntie Stella approach is highly participatory and provides guidance on how to discuss Sexual and Reproductive Health with adolescents of different age groups. The stepping stones methodology interrogates factors that perpetuate VAWG.
LCDZ will be an important player in the consortium as it will bring the disability inclusion factor .The organisation will be drawing attention to the people with disability in the project areas and making sure that they are also well represented. LCDZ will also facilitate for disability friendly implementation in terms of accessibility of the project activities, communication and a balanced selection of people to be assisted between those with disability and those without.