A push for ratification of African Charter on Democracy, Elections and Governance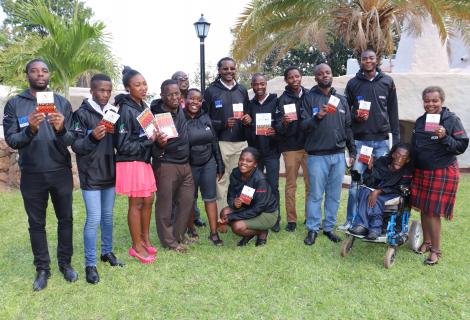 Between 30 July and 1 August, ActionAid Zimbabwe together with the Zimbabwe Human Rights NGO Forum co-convened a National Planning and Review Meeting on the African Charter on Democracy, Elections and Governance (ACDEG) in the lakeside town of Kariba. The overarching objective of the stakeholders at this meeting was to appraise themselves on the progress made at the individual and collaborative levels in the ratification and domestication of ACDEG.
In the course of deliberations, it was noted that whereas Zimbabwe has made remarkable steps there remains a few outstanding undertakings to make the document legally binding on the country. The Following the approval of the Charter by both Houses, these are the transmission and deposition of the document with the African Union secretariat in Addis Ababa, Ethiopia—thereby symbolising full ratification.
Accordingly, participating non-state actors, among them nongovernmental organisations, implored the represented government commissions and state authorities to use their respective mandates towards delivering on the remaining steps. In response, state actors such as the ministries of Justice, Legal and Parliamentary Affairs; Foreign Affairs and International Trade and the Electoral Commission undertook to deliver on their functions The Portfolio Committee on Justice, Legal and Parliamentary Affairs was represented by its Chairperson Hon Misheck Mataranyika and member Hon Cuthbert Mpame. Civic society organisations present included the Election Resource Centre, Zimbabwe Election Support Network, Zimbabwe Peace Project, ZimRights, VERITAS, Zimbabwe Association for Crime Prevention and Rehabilitation and the Development Practitioners Network. Media houses ZimFM Stereo, 263 House, the state-owned Zimbabwe Broadcasting Corporation and the Herald and Newsday represented the Fourth Estate.
Remarkably, there were commitments for inter-agency cooperation and collaborative synergies between and within NGOs and other participants. In his remarks, Joy Mabenge the ActionAid Zimbabwe Country Director noted that "we are coming from various locations and stations, but our individual and collective efforts continue to contribute towards the grand vision envisioned in the Charter. Our hope as ActionAid is that the implementation of ACDEG will contribute to the realisation of social justice in Zimbabwe."
From the side-lines of the convening, there was an evident air of optimism as the stakeholders agreed to pool energies and involve citizens in support of this effort. The three-day gathering was attended by forty participants