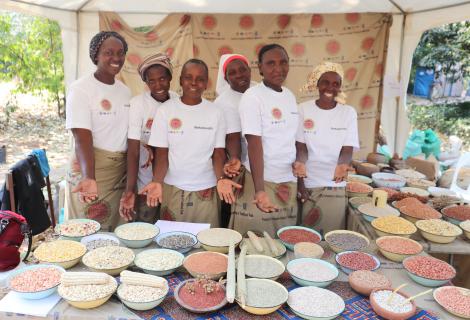 Provides market linkages for women farmers
By Nhamoyatanga Muchetu, Agronomist, Binga, ActionAid Zimbabwe
The Botanical Gardens in Harare were turned into an arena of traditional seeds and foods on 13 and 14 September 2019 as communal women farmers, seed experts and food experts congregated to showcase and enjoy various seeds and traditional foods from across the country. Over the course of the two days, farmers showcased a variety of local open-pollinated cereal and legume seeds from their respective districts.
Farmers had the opportunity to interact with farmers from other districts and exchanged seed and information in the process. In addition, visitors were given an opportunity to learn how various communities are using traditional seeds and foods to combat poverty and hunger.
ActionAid Zimbabwe (AAZ) facilitated the participation of nine women farmers under the banner of the Zambezi Valley Alliance (ZVA), a project under the Zimbabwe Resilience Building Fund (ZRBF) being implemented in Binga, Kariba, and Mbire. The project aims to improve the adaptive capacities of targeted communities through increased community asset accumulation and ensuring implementation of sustainable livelihoods and economic strategies and systems.
Achieving seed security is essential in building communal farmers' resilience to climate change and other natural shocks. Seed is the most important input which makes the investment on all other inputs such as fertilizer, crop chemicals, and labour be realized.
Attending the seed and food fair presented the farmers with an opportunity to promoting traditional seeds that are suitable for the project's operational areas and linking them with buyers of seeds and traditional foods. In addition to selling their produce, the farmers also managed to buy seeds of crop varieties from other districts with similar climatic conditions to their respective districts. It is important for farmers to get access to crop varieties from other districts as it improves seed variety in their own areas especially for small grains which most seed companies are not eager to invest in.
Among the seed which the farmers were able to buy were pearl millet, finger millet, sorghum, maize and cowpeas, groundnuts and round nuts.
One of the participating farmers, Ketura Chipare from Mbire said: "I am grateful for this festival, I have learnt a lot about seeds and food varieties from other areas. Over the course of the fair, we have managed to sell and buy seeds from other farmers from different areas, with these new seeds I am confident that our yields will improve:"
One of the farmers said participating at the seed fair helped him to appreciate the importance of local seed varieties. She pointed out that the use of open-pollinated crop varieties was important as it allows farmers to access seeds which is suitable to their local conditions easily. She also said she had an opportunity to interact and share information with farmers from other districts. She said she is now well equipped to attend future agricultural shows after the exposure he got at the seed fair. The farmer also said she was particularly excited to learn that traditional fruits such as masawu (Ziziphus mauritiana) and the baobab fruit can be used to make porridge, cooking oil and beverages