Girl excels against all odds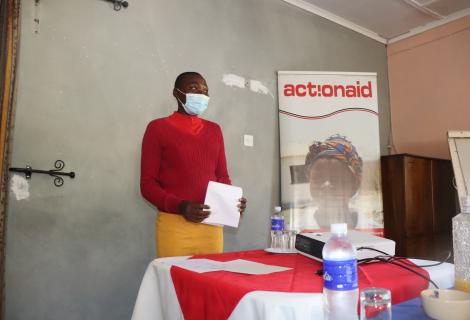 With support from the Empowering Girls to Overcome Barriers to Education Programme
Erica, a 17 years old girl has passed her Ordinary level examinations despite challenges in her learning environment. She stays with her widowed mother and three younger siblings in Nyanga rural. Her father passed away in 2010. Since her father passed away, life has never been easy for Erica and her family. She had lost hope of pursuing her education because her mother could not afford to pay for her education. Erica's mother struggled to feed the family hence the only option she had was to drop Erica from school.
"I was hurt when my mother failed to enroll me to secondary school. I felt my future had been shattered and I lost all hope. Seeing other children of my age rushing to school while I was stuck at home pained me. I understood the reality that my mother could not afford to pay for my secondary school fees," she said.
Erica went to Nyajezi Secondary School head to beg him to help her find donors for her to go to school, but it seemed fruitless then. Her prayer was finally answered when ActionAid Zimbabwe (AAZ) in partnership with three local rights partners in Nyanga introduced the Empowering Girls to Overcome Barriers to Education Programme in 2017.
"I received a phone call from the Nyajezi Secondary School head who told me that a new donor funded project had been introduced at the school which could pay for my school fees. I was very happy. I did not sleep that night. I did not believe I would start school soon. My hope was restored, and I made a commitment to work hard no matter what," said the ecstatic Erica.
FACT Zimbabwe with financial assistance from AAZ paid school fees for Erica and 10 other vulnerable girls at her school from 2017 to 2019. The girls attended school without fear of being told to go back home for failure of paying school fees. Apart from direct school fees, the girls were supported with school-based income generating projects that helped fund other education requirements such as stationery. The income generating projects were in form of onion and poultry projects.
"I was the eldest among the girls. So, I was responsible of organising and making sure that we take care of our projects. During holidays we put a duty roster so that we could feed the chickens and water the onion garden. When we sold our first batch of broiler chickens we expanded our project by having indigenous chickens which are easier to manage and are now producing eggs. We are now selling eggs to the community," Erica said.
FACT Zimbabwe has supplied Erica and the girls with an egg incubator. The girls are planning to hatch the eggs and sell chicks using the incubator. Erica said she gained skills from the school project. She is now keeping her own chickens at home. Erica now has 25 chickens of her own at home. She requested her mother to give her a piece of land in her garden where she is growing onions and wheat. Although the Empowering Girls to Overcome Barriers to Education Project officially ended in June 2020, Erica said her education continues as she uses the money from her chicken and onion project.
Erica takes responsibility of taking care of her siblings even though she must study for her examinations when her mother is away to look for food for the family.
"It was not easy to study at the same time caring for my siblings. After school I collected firewood, water and cook for the siblings. I utilised the little time left to study hard," narrated Erica at the official end of the Empowering Girls to Overcome Barriers to Education Programme on 4 June 2020.
Despite all the responsibilities and challenges, Erica passed all her Form Four subjects written at the end of 2019. She had 2As, 5Bs and 1C, which are exceptional results from a child who went to school under difficult circumstances.
"This is not what I expected. I expected to pass all subjects with As. However, I am very grateful to FACT and ActionAid for assisting me with school fees. If they had not paid for my school and exam fees I would not be celebrating today. Their help motivated me to work hard and I know my future is brighter. One day I will be able to take care of my mother and my siblings and live a happy and decent life." said Erica.
Erica is now (2020) doing her Advanced levels. She is using funds from her farming projects at home to fund her education. She wishes to study Aviation Management at University.