Giving the rod not the fish in the fight against COVID-19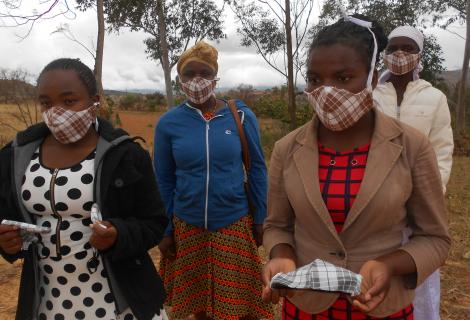 The COVID-19 pandemic has brought numerous and multi – faceted challenges countrywide with people in rural areas not being spared from economic and social hardships. With disruptions that came with COVID-19, livelihoods in rural areas are also affected as farmers fail to access markets while many who rely on support from breadwinners in urban areas are seeing dwindling support. The need to empower rural communities to be economically sustainable became apparent.
Personal (17) is among many children who were negatively affected by the COVID-19 pandemic. She lives with her mother, elder sister and an aunt. Her father is deceased, and her mother is a subsistence farmer. COVID-19 has resulted in the closure of schools and the reduction of Personal's family income.  This has made it difficult for Personal's mother to provide the family essentials, sanitary wear included.
Disposable sanitary wear in Zimbabwe cost about US$1 for a packet of 10 pads and one requires about two packets in a month. Lockdown measures have resulted in the family failing to access agricultural markets, hitting hard on the family income. Personal's family is among many families that are mainly into subsistence farming such as growing maize and beans. Current prices for of a 20kg maize and beans bag are US$4 and beans US$15 respectively. Normal prices are US$5 and $25 respectively. COVID19 has affected the market with external buyers who used to come in Nyanga communities not coming because of travel restrictions.
Personal's mother supplements her family income on causal jobs within the community. One gets about US$2 a day for casual jobs such as working in someone's field. There has been limited casual jobs because families who used to outsource labour have enough workers since schools are closed and their children do the work.
Personal has yet another challenge affecting her studies in the form of the burden of unpaid care work on her. "I barely have time to study when I'm at home because I will be doing domestic chores such as sweeping, cooking and fetching water. I have no access to digital tools and the internet. While others are doing their studies, I am legging behind. Sometimes I borrow my aunt's phone to browse on the internet, but I face challenges buying data bundles. In Zimbabwe, data tariffs are very high expensive," she said.
Data bundles for downloading notes for a day requires around US$2 a day which is beyond the reach of many pupils, Personal included. In addition, network connection is only good when there is electricity in Personal's community. The challenge comes when there is no electricity as service providers are not providing diesel for their boosters to function in the absence of electricity. "I hope and pray that I will go back to school again," Personal said.
Diocese of Mutare Community Care Programme (DOMCCP), an AAZ partner, trained girls and young women to make own face masks. As an emergency response to the pandemic, most people in rural communities were failing to afford the face masks. Personal, a lower Six pupil in Nyanga was among the group of girls and young women who were trained. Personal is a member of a Rural Women Assembly (RWA) group called Mercy Care from Nyanga.
DOMCCP has supported Personal and her group with material to make 450 reusable face masks. As an ambitious girl with the zeal to join the youth movement and participate in fighting the pandemic, Personal joined other older girls and youths in this group. Personal is the youngest in the group. The masks which they make meet the World Health Organisation standards.
"I am so thankful for acquiring skilled knowledge about how to make face masks since this gives me the opportunity to sew masks for my family and selling some. I get money for my sanitary wear and airtime to pursue my studies using online platforms from selling the masks. I will also disseminate information on COVID-19 creating market for the face masks as part of the training I received," an empowered Personal said.
Personal mirrors a lot of rural women and girls affected by the pandemic. DOMCCP also trained 75 (RWA) female tailors from wards 9, 12, 13, 14 and 15 of Nyanga and further supported them with material to make 3 000 face masks in a bid to render sustainable assistance to the communities as well as widening the tailors' sources of income. It is more sustainable to train women to make their own face masks instead of just providing them with masks. With the skills they have acquired, women in Nyanga are now providing masks for their families and communities at a cost of US$2 for two masks.