Mainstreaming Disability in Social Justice work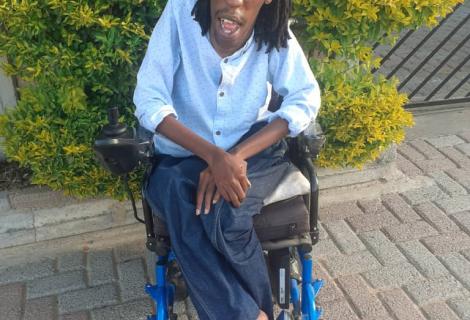 Meet Tsepang Nare, a beacon of hope and inspiration
He is Tsepang Thembani Nare (25) from Emakandeni, Bulawayo. He operates just like any able- bodied person does despite using a wheelchair all his life. He exercises a compelling charm which inspires dedication, hope and inspiration in other young persons. Tsepang, the Activista Zimbabwe Disability Coordinator and passionate human rights activist, has challenged the Parliament of Zimbabwe, the government and civic society organisations to come up with disability policies to ensure the inclusion of people with disability in mainstream development. Tsepang is a certified Christian counsellor, a motivational speaker and writer. He exudes energy and is known in the Activista circles as "Tsepang the Legend".  He is popular for his dedication in promoting social justice for excluded people among them people with disability and women.
According to the United Nations the 60-80 million persons with disabilities in Africa are subjected to poverty, discrimination, unfair cultural practices and many other forms of human rights violations. The United Nations Convention on the Rights of Persons with Disabilities (UNCRPD) came into effect in May 2008 and was adopted in Zimbabwe in September 2013. This was done to promote, protect and ensure the full and equal enjoyment of all human rights and fundamental freedoms by all persons with disabilities and to promote respect for their inherent dignity. However, there has been no clear disability policies across most sectors in the country.
"I am lucky that have a wheelchair and did my tertiary education. Many people with disabilities are never seen at all especially women who are the worst affected. They are treated as second class citizens," said Tsepang, who is a holder of a Human Resources Diploma.
Tsepang is working with Activista which has chapters across the 10 Provinces of Zimbabwe to develop n a Disability Inclusive Policy to make sure persons with disabilities are not left out in mainstreaming development Tsepang's advocacy work has born some fruits. ActionAid Zimbabwe (AAZ), the brainchild behind the Activista Zimbabwe movement with over 565 members countrywide, has put together a draft Disability Policy currently being reviewed.
"There will not be any social justice if our policies are not inclusive. Our draft policy seeks to bring the realisation to society that AAZ is an equal opportunity employer as enshrined in the Protocol to the African Charter on Human and People's Rights of Persons with Disabilities in Africa under Article (19), to intensify community empowerment programmes to benefit persons with disabilities, with a bias on young women and girls and an overall promotion of inclusivity," said ActionAid Zimbabwe Country Director, Joy Mabenge.
Working with other Activista Zimbabwe members, he is currently soliciting signatures in a petition to the Parliament Portfolio Committee on Transport to investigate the transport system and take necessary measures towards making transport accessible for all persons with disabilities. As at October 31, 2019, a total of 726 people had signed the petition with 309 having signed the physical petition and 417 signed the online version.
"One of the major challenges for people with disability has been failure by parents to send their children with disability to school because it is expensive. There has also been no political will on the part of the government to support the education of people with disability. Zimbabwe is almost 40 years into Independence, but there is no clear policy on the education of people with disabilities."
Giving an example to the extent to which disability issues are being neglected in many institutions, like the hotel he was staying recently in Harare, Tsepang said: "Disability issues are as old as Jesus times, but issues of accessibility are not being addressed. This hotel is as old as 50 years, but it is difficult to access some of the infrastructure. I have had people to carry me physically even when I have a wheelchair because the hotel infrastructure has no accessible wheelchair doorways and ramps at entries. It is dehumanising and disempowering to be lifted when I have a wheelchair."
He said he is advocating for Comprehensive Accessibility which includes Physical Accessibility – the right to access infrastructure such as buildings and Communication Accessibility- the right to accessing information using aided tools like brail and others. Tsepang has also been instrumental in ensuring that issues of disability are not taken for granted, for example emphasising the implementation and mainstreaming of the issues in the African Charter of Democracy, Elections and Governance (ACDEG). Representing people with Disability under Activista Zimbabwe, he has made sure that key Parliament Portfolio Committees and Ministries of Justice, Legal and Parliamentary Affairs and Foreign Affairs are privy to the issues of disability as contained in ACDEG which is billed as Africa's premier governance touchstone.