Saying Farewell to an ActionAider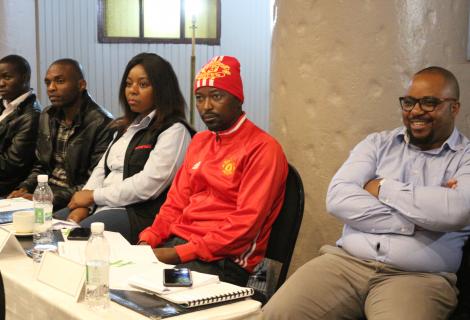 Robinson Chikowero
On 31 July 2020, we bade farewell to one Robinson Chikowore, who was the Monitoring and Evaluation Manager for the Zimbabwe Resilience Building Fund (ZRBF) Project being implemented in Binga, Kariba and Mbire. ActionAid is the lead organization implementing programmes under the ZRBF consortium called the Zambezi Valley Alliance (ZVA).His work while at ActionAid will never be forgotten and his departing message touched everyone's heart and we decided to publish it.
Leaving ActionAid was a difficult decision, but one I had to make, considering the cordial and mutually respectful working relationship I enjoyed with most of ActionAiders, especially those I directly interacted with during the past 16 months. I will treasure the good and the bad memories (very few) we shared at internal and external meetings, staff meetings, working on deliverables together. This included planning and reporting meetings, travelling to the field and, meeting communities/stakeholders during participatory review and reflection processes (PRRPs) and field monitoring visits. It was really a fruitful and satisfying journey that molded me into a better person professionally and personally.
While everyone I interacted with made my stay at ActionAid pleasant I would have loved to say this face to face had it not been for the COVID-19 pandemic that flung everything into disarray. This could have been my fare thee well speech to ActionAiders. All the same, I would like to mention a few individuals, for no reason and in no order. The Country Director (CD), Joy Mabenge, as he said in his response to the farewell email, we had known each other and professionally interacted before (that time I was also in a space I could tell him "Khule, your things are not in order". Not that they were not in order but because I had that kind of power at that time!). This explained the confidence he had in my capabilities. He gave me the opportunity to lead processes such as planning, and I enjoyed the role with the experience it came with. It is unfortunate I will not be there to be part of the vision he has for the organisation. For the avoidance of doubt, I will always remember his words of wisdom during staff meetings which resonated well with my own principles and expectations – it should never be business as usual when you face a new challenge.
The ZRBF Team Leader, Eben Tombo (Captain my Captain), whose laissez faire leadership approach also revealed his confidence, not only in myself and my ability, but his whole team (the ZRBF team). I believe we clicked from the start and he trusted me to represent both ZVA and the organisation whenever and wherever necessary. Eben's institutional memory was crucial in helping me settle within the organisation.
The Head of Programme and Resource Mobilisation (HoPRM), Andrew Chikowore (no relation please), who like the CD, I met and professionally interacted with before ActionAid, also showed a lot of confidence in my execution of my duties and trusted my judgement as we worked together. In fact, I think we jelled and formed a remarkable team during planning and reporting processes. We shared the same ethos as far as our roles traversed. It was an honour to be of service and serve ActionAid with and under this kind of leadership.
The ZRBF team from the national office to the districts. I enjoyed every moment we spent together in the field with the communities/stakeholders, the goats and at dip tanks, the team braais in the field (some I would contribute less but eat more), the team "lunch- outs" made working with you at ActionAid enjoyable.
Peter Clever Matimati and the Local Rights Programme (LRP) team. I will remember the PRRPs in Nyanga with communities and partners. Rumbidzayi Makoni and Civic Participation and Accountability (CPA) team. I would have loved to have more time with you but still the few moments interacted with the and partners were worth remembering. The struggle for social justice will place us in the same space again.
Newton Chari and the Zimbabwe Agricultural Growth Programme (ZAGP) team. Such a young and dedicated team, oh yes, and loyal to goats and pigs. I will always treasure the moments with the team.
Evans Gomera and the finance team. I never had any monies I owed the organisation deducted from my salary because I would just make sure I followed the procedures, of course, with the guidance of the team. I know sometimes people have the perception that finance colleagues are difficult, I see and saw it differently – it is standard finance procedures and all you need to do is adhere to them.
Crescencia Mafuko/Xanthe Chikarara and the admin team. Great team we had and thank you for the support and confidence throughout my short stint with ActionAid. And Xanthe, the blog is on its way. I know I also had weaknesses (I can never claim to be an angel) and some of you were honest enough to point them out to me in your own different ways and not in so many words, but I can assure you that I learnt a lot from you and my time at ActionAid made me a better person and wiser person than I was when I joined.
In the words of Isaac Newton, "(If) I have seen further (it is) by standing on the shoulders of giants." And you were indeed the giants who imparted wisdom, experience and knowledge that will help me as I embark on another professional trajectory. It is my hope that our paths will cross again, and I will not hesitate to grab another opportunity to work with this team again. Like the CD said, 'once an Action Aider, always one" and as the adage goes, "we meet to part and part to meet.