The sky is the limit for young female farmer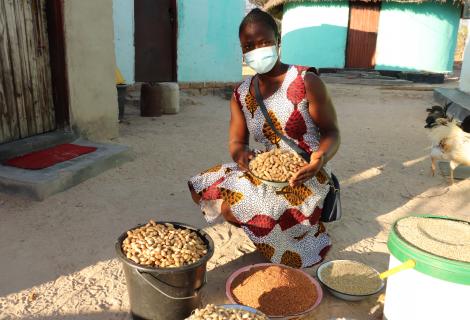 Small grain crops, a sustainable alternative in the face of drought and COVID19
Located 25km from Mutoko Central Business District is an agro-based Kawere Ward 4 community where Mavis Gofa (25) grew up in. Born and bred in the Mutoko community, Mavis has so much zeal and passion for farming. She is a smallholder farmer that has been receiving education and knowledge of practicing agro-ecology under the Partnership for Social Accountability (PSA) project implemented by the Zimbabwe Small Organic Farmers Forum (ZIMSOFF) working in collaboration with ActionAid Zimbabwe (AAZ).
Mavis accepted the initiative of growing small grain crops introduced by ZIMSOFF as they are drought tolerant. She has not looked back nor regretted making this decision. Her family produces food for consumption, they sell the surplus thereby generating income for other household needs.
As a young woman, I ventured into growing small grain crops and I have seen it beneficial since we generally receive low rainfall in Mutoko. In the last season I harvested 40 bags of sorghum which is enough for home consumption, said Mavis.
Mavis is one of the young women who has defied all odds in Kawere Village as farming is usually considered a preserve of the elderly who would have retired from the city.
Many people try to demotivate me. Looking at the current economic situation in our country, staying here and practicing farming is far better than migrating to the city where job opportunities are hard to come by and young women of my age end up participating in immoral behaviour to earn a living, she said.
According to Mavis, ZIMSOFF has made work easier for her as she can practice water harvesting in her small garden including doing minimum tillage using less expensive and readily available home equipment. This helps reduce her operating costs. Although she has been doing very well as a small holder farmer, Mavis faces several challenges such as access to markets and the burden of unpaid care work (UCW) especially during COVID-19.
"I stay with my grandmother and two cousin brothers. I spend a lot of time doing household tasks and sometimes I wake up very early in the morning so I can balance with my garden work. My grandmother is old, and it is my role to take care of her during this period of COVID19. Despite the issue of unpaid care work,COVID-19 has tightened our access to markets. We are losing produce due to spoilage because we have nowhere to sell it. We are also losing our produce at police roadblocks on our way to Harare. It is very difficult to access customers due to lockdown," said Mavis.
Giving an example of her losses, Mavis said: " In one of my trips to Harare in June 2020, I carried 15 boxes of tomatoes which I used to sell about US$15 per box. I left three boxes worth about US$45 at a police roadblock for me to be allowed to proceed to Harare despite having a travel letter with a local police stamp. From the 12 remaining boxes, I sold only three boxes for US$15 each, but sold the rest of the boxes for only US$10 per box because I was afraid they would go bad before they are bought. Because of lockdowns few people who are coming to the Harare Mbare Musika market. One is forced to sell their produce at lower prices to avoid having more losses as tomatoes are perishable."
In addition to the above losses, Mavis said she lost another US$20 on her way back home at yet another police roadblock. "They did not accept my letter and they made me pay US$20 as fine for travelling without adequate paperwork. Because of the reduced family income, we are now eating twice a day instead of three times. This year I will not be able to buy maize seed to plant because I do not have the money. I will have to plant untreated maize which does not have good yields."
Mavis is now resorting to producing more small grains such as sorghum and rapoko whose seeds her community members can store and replant and still achieve good yields. The small grains crops are also adaptive to drought prone conditions compared with maize.
A seed expo was held at Kawere Secondary School recently and Mavis is part of a group of women called Zodza that won the first prize. As a group they showcased small grain seeds are adaptive to low rainfall.
Small grain crops are underestimated yet they are nutritious. More awareness is needed to teach famers out there to venture into growing small grain crops that do well during drought. I have seen that less costs are also involved in producing these crops as they do not require fertilizers, said Mavis.
Mavis is one of an increasing number of young women supported by ZIMSOFF venturing into Smallholder farming using small grains in Mutoko. ZIMSOFF has trained 21 other women in value addition and gender responsiveness. A total of 25 women were also trained in COVID awareness and prevention.