Supporting schools and children during COVID -19 pandemic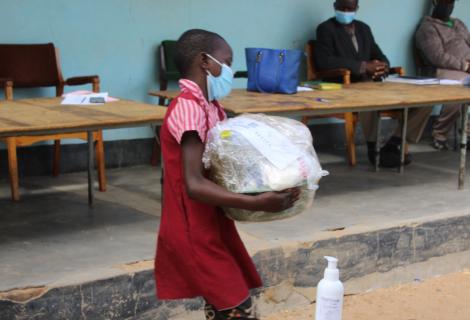 By Nqobile Nkiwane, Forum for African Women Educationalist Zimbabwe -Chapter –Information and Communications Officer
As Zimbabwe continues to live under an indefinite lockdown period to reduce the spread of COVID-19, children continue to bear their own share of hardships. Some yearn to go back to school, others to access internet and radio lessons while others just want their 'freedom' back.
Many schools and households are facing economic difficulties amid the COVID-19 era and subsequent efforts to reduce its spread. Household income has dwindled for many and poverty continues to loom. Many households in Shamva are living below the poverty datum line ( ZW$ 7425.81) per month (below US$100 a month) for a family of five as per April 2020 information shared by the Zimbabwe National Statistics Agency.
Marylyn (14) (not her real name) is a grade 7 leaner at a school in Shamva District. She thinks learning is totally on hold for now since she has not heard of radio lessons other pupils are accessing. The news of online learning and radio lessons came as a surprise to her, without a radio or mobile phone at home, she cannot participate in these lessons. She also said she misses school whilst also sharing her experiences on how she is living with her grandmother who fends for her and two other siblings through vending in the COVID-19 era.
"Movement has been restricted and my grandmother cannot make enough money to keep us going,'' Marylyn said. She is grateful to the Forum for African Women Educationalist Zimbabwe -Chapter (FAWEZ), an ActionAid partner who provided food and sanitary wear as part of efforts to support vulnerable households in Shamva households during the lockdown.
The 19th of June 2020 is a day that Marylyn will always remember. She is one of the 50 vulnerable children who have received food hampers and re-usable sanitary wear. Those assisted with food hampers were selected from FAWEZI club members at the schools under the Empowered Adolescents for Improved Quality of Life project. FAWEZ is implementing the project with support from AAZ and in partnership with the Leonard Cheshire Disability Zimbabwe (LCDZ) and Aids Counselling Trust (ACT).
FAWEZI and its partners handed over re- usable sanitary pads as a way of providing a long-lasting solution for the vulnerable girls as they can wash and re- use the sanitary pads. The project also has a component of Economic Empowerment for vulnerable families aimed at supporting them with income generating projects and improvement of livelihoods over and above the direct support on food.
Many of the children assisted like Marylin are exposed to harmful practices such as early and forced marriages. They are also at risk of facing physical and sexual assaults, early pregnancy, transactional sex, prostitution and lack of basic needs. All these problems have been worsened by the lockdown movement restrictions that have now crippled many informal income generating activities.
With support from AAZ, FAWEZI also donated Personal Protection Equipment (PPE) to five schools in Shamva. The PPE handover to the schools was done to ensure enhanced levels of preparedness for schools re- opening in line with World Health Organisation COVID-19 prevention requirements. The PPE donations to schools included face masks, tippy tap buckets, overalls, disinfectants, food hampers and re-usable sanitary pads.
Speaking at the PPE handover ceremony the Ministry of Education Shamva Remedial Tutor Victor Mugiya said the donation was a welcome gesture. He said the food hampers will assist the vulnerable girls as they are sometimes forced to resort to prostitution in order to get food.
Our children here especially the girls need more assistance in terms of basic needs including sanitary pads, because sometimes they are sexually exploited just for a meal, he said.