Women take lead in campaign on provision of gender responsive services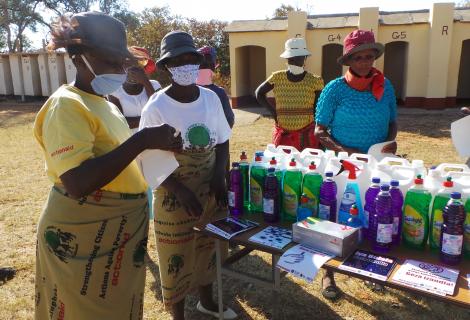 In the face of COVID19
Like any other pandemic, COVID-19 is impacting negatively on the lives of women and children globally, including those living in Zimbabwe. A Rural Women's Assembly, (RWA) Nkayi Group, is taking lead in conscientising their community leaders on the need to protect women's rights during the COVID-19 era. The group is also emphasizing the importance of women taking the lead in the COVID19 Response Programme.
The RWA is a women's group which focuses on empowering women across the country and is supported by AAZ and partners. Women protection and leadership is the ActionAid signature under any of its humanitarian response programmes. The focus on women is justified by the fact that women are affected the most by emergencies.
Lack of women participation in decision making is the biggest challenge in Nkayi and local leaders actively involved in the COVID19 response are mostly men who take part through local structures such as village, wards and districts committees. All councilors from wards 12, 20, 21, 27 and 29 of Nkayi are men. All villages (35 per ward) are also led by men. The RWAs are being implemented in these wards. In a disaster risk committee of nine people in a village in the above wards in Nkayi, about two to three are women who are mostly committee members and not chairpersons.
Leading the COVD-19 Campaign in Ward 16 Ward of Nkayi in Matabeleland North Province, the RWA group is supported by the Health Education Food Organisation (HEFO), a partner of AAZ. The RWA group in Nkayi has challenged the local Chief and other institutional leaders and staged the campaign on pushing local leaders to involve women in decision making on the COVID19 response. They are also advocating local authorities to ensure that women and children access sanitizers and other necessary personal protective equipment (PPEs) to help fight COVID-19.
 According to HEFO about 60% of the farmers in Nkayi District are women. "Food production and supply has decreased in the district as women fail to access markets due to the deadly pandemic. The district centre, once a hive of activity with buses passing by enroute to Bulawayo relied on for supply of farming produce from the women. Because of the pandemic, women have now filled the gap by using scotch-carts to bring food only sold within communities," said Janet Hlabangani (43) a member of the Ward 16 RWA group.
The RWA staged what they called "An awakening to the Leadership" campaign on COVID-19 at Dakamela Primary School in Nkayi as they paraded skills on construction and use of tippy-tapes for handwashing as well as sanitiser usage as part of the COVID-19 campaign. Tippy tapes are low cost handwashing facilities which communities can use.
A total of 31 people comprising villages heads, chiefs and nurses from the local clinic attended the RWA campaign initiative. The RWA campaign has seen local authorities like chiefs organizing village meetings on COVID19 which were not taking place prior to the campaign. The RWA members have continued to push for women's issues during the village COVID meetings. So far in Ward 16, two meetings on COVID19 have been conducted in each village organized by the local chiefs.
The RWA campaign has influenced decisions at ward level, for example the Ward 16 Health Committee has put on its plans for 2020 and 2021 the upgrading of Dakamela Clinic to meet COVID19 standards. The local Environmental Health Technician Irene Mabuka, in solidarity with the RWA said: "The need to protect our women and children cannot be over-emphasized if families are to continue to live. The RWA members cannot stay away from each other as they need to meet continually to update one another on how to feed their families. PPEs and water are a necessity to enable women to feed the nation and go about their business. Local government should provide gender responsive public services such as water."
Over 180 women are involved in the RWA COVID-19 Campaign in Nkayi. Because of its vicinity to the borders of three countries in its radius namely South Africa, Botswana and Zambia, Nkayi is at risk of importing COVID-19 from the neighbouring countries. In addition, local transmission in Zimbabwe has exceeded imported cases which further put working women like farmers at risk.