New hope for Chimanimani School pupils after a new block is built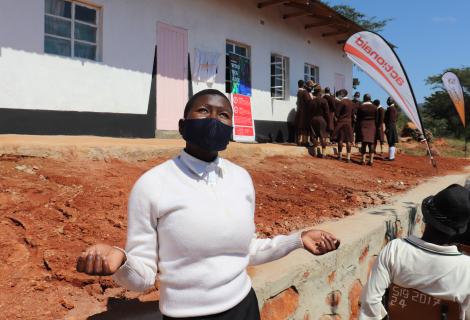 As school recovers from the effects of Cyclone Idai
Ashely (16), of Tiya Secondary School in Chimanimani District in Manicaland Province of Zimbabwe had to stop going to school for about six months in 2019, when three quarters of her school infrastructure was destroyed by Cyclone Idai devastation in March 2019. Cyclone Idai caused loss of lives, livelihoods, and a disruption in the education system of many schools in Ashely's area.
The learning and wellbeing of at least 91 000 children was affected by Cyclone Idai that damaged schools' infrastructure in seven districts of Manicaland, with Chimanimani being the most affected.
"I was in Form 2 when Cyclone Idai destroyed our school infrastructure, and we could not cross flooded rivers to go to school in 2019. We stopped going to school in March 2019 and only resumed studies in September 2019," says Ashley, who is now in Form 4.
The six months break negatively affected Ashley's performance in class and many other school pupils. Ashely and the rest of school pupils were taking some lessons under trees when classes resumed in September 2019.
"I only passed six subjects instead of nine in 2019. There were times when we would do science lessons under trees because we did not have a science laboratory," says, Ashley who is a school prefect.
As if it was not enough for Ashely and other pupils at her school, in 2020, their studies were disrupted by yet another disaster being the Coronavirus, a global pandemic which saw them stop going to school for the second year running from March to October 2020.
Despite all these setbacks for Ashely, a new lease of hope has come for her and 131 other school pupils at Tiya Secondary School following the construction of a classroom block, which comprises two classrooms. ActionAid Zimbabwe (AAZ) in partnership with Simukai Child Protection Programme and with funding from ActionAid Ireland and the Electric Aid, have supported the construction of the classroom block, which will be used as science laboratories. The school, which had two classroom blocks, now has three blocks.
"I am happy that we have new classrooms at our school. We will no longer learn in the open and get scotched by the sun. I hope to improve my performance at school now and pass all the nine subjects," said the cheerful Ashely.
Speaking at the classroom handover ceremony on 30 April 2021, AAZ Country Director, Joy Mabenge said:
"The construction of this classroom block will lead to improved access to education for children at Tiya Secondary School. The classroom block is expected to benefit at least 100 students at a time." The new classroom block will improve the learning environment at Tiya School through the provision of shelter against the harsh weather, such as cold and heat, during the different seasons of the year.
In addition to supporting the construction of the classroom block, AAZ in partnership with Simukai has restored the piped water system at the school which had been destroyed by Cyclone Idai.
Mabenge said AAZ will fund the purchasing of a chubb safe for securing examination papers as part of the infrastructure for the school to qualify to be a Zimbabwe School Examination Council (ZIMSEC) examination centre. Pupils from the school were travelling long distances and crossing dangerous rivers to write examinations at other schools. In addition to the chubb safe, the school will require a strong room where the safe will be kept, an administration block, at least three teacher houses and four classroom blocks for to qualify to be a ZIMSEC examination centre.
Therefore, more support is still required at Tiya Secondary School. "As AAZ we urge other stakeholders to come aboard and assist Tiya Secondary School build more classroom blocks," said Mabenge as he handed over the new classroom block.