Calls for more Climate Financing at Nkayi IWD Commemorations.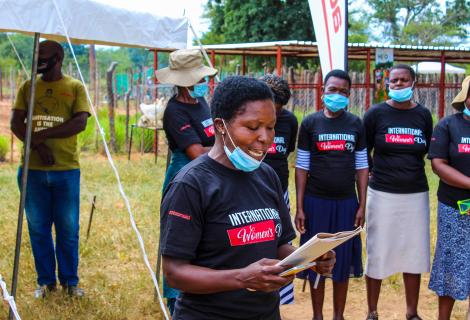 AAZ in partnership with HEFO on the 17th of March 2022 held an International Women's Day commemoration in Nkayi, in Matabeleland North Province of Zimbabwe. This was done to recognize the contribution of women and girls in Zimbabwe leading the charge on climate change adaptation, mitigation, and response, to build a more sustainable future for all.
Running under the theme "Gender equality today for a sustainable tomorrow", the commemorations were graced by representatives from relevant government ministries such as the Ministry of Women's Affairs, Small and Medium Enterprises, Ministry of Lands, Agriculture, Water, Climate and Rural Resettlement and Zimbabwe Gender Commission. These were coming together in solidarity with women from across the national divide to speak with an amplified voice.
Speaking at the commemorations, AAZ Country Director Joy Mabenge called for more support on climate financing for women to take up resilient initiatives to curb the impacts of climate change and withstand shocks resulting from climate change.
Mabenge went on to call for more action to reduce the burden of unpaid care work women face because of climate change which affects them more than men.
"Globally, women are increasingly being recognized as more vulnerable to climate change impacts than men, as they constitute the majority of the world's poor and are more dependent on the natural resources which climate change threatens the most," he added
Speaking during the same event on behalf of the Minister of Women's Affairs, Small and Medium Enterprises, Matabeleland North Provincial Development Coordinator Masauso Phiri called for gender equality and equal representation in decision making bodies as women are not actively involved in the decision-making process in climate change issues.
"During extreme weather such as droughts, cyclones and floods, women tend to work more to restore and secure household livelihoods. This will leave less time for women to access training and education, develop skills or participate in the economic mainstream, thus gender equality remains low," Phiri said.
Members of Rural Women's Assemblies from Nkayi, Rusape and Mutoko serenaded delegates with key messages on the need to address the effects of climate change through drama, poems, songs, and dance. 
The commemoration's main objectives were to raise awareness of the importance of women's inclusion in decision making processes and bodies in the face of climate change and recovery from the global disaster. They also aimed to celebrate and highlight women leading the way in agriculture through the adoption of feminist economic alternatives in agriculture such as agroecology and amplify the voices and solidarity of women from across the national divide. The commemorations also sought to unify women in all parts of the country to advocate for a just and sustainable agriculture. The IWD commemorations also aimed to increase the appreciation of the power among women in the fight against climate change and its impacts and envisage that authorities have a responsibility to at least make commitments to the realization of a sustainable tomorrow in agriculture led by women.