Commemorating the Women's month: Applauding Women's Leadership Role in Humanitarian Interventions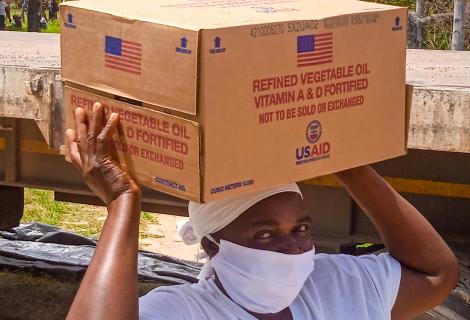 By Caroline Mutimbanyoka and Nyasha Chidembo, Activista Zimbabwe members
A trend of decades apart 1982, 1992, 2002, 2012 and 2022 aggravated droughts is setting precedence in Zimbabwe. Consequently, a huge proportion of the population faces serious food insecurity. The latest drought that the country is facing (2021-2022 season) is being intensified by the combined effects of an economic crisis and lack of clear agricultural policies, corruption, consecutive poor agricultural seasons, the aftermath of Cyclone Idai, the COVID-19 pandemic, and dry spells.
Through the World Food Programme (WFP), AAZ is using feminist lenses in implementing the Lean Season Assistance (LSA) to complement government efforts in tackling food insecurity. The LSA was being implemented in the Mutare Zimunya and Marange area between October 2021 and March 2022. As we commemorate the women's month, it is crucial at this juncture to appraise the role of women in the successful implementation of the LSA.
With a target of 104 654 persons per month in 14 wards mainly in the Zimunya and Marange area of Mutare Rural District, the LSA targeted communities whose agriculture activities were affected by dry spells. The LSA programme addresses the urgent food needs of the most vulnerable Zimbabweans with beneficiaries receiving cereals, pulses, and vegetable oil to increase lifesaving food and nutrition support.
During crisis, there is differential vulnerability among people affected and women are affected the most. The AAZ team empowered groups called Food Distribution Committees (FDPs)to support the food distribution process. About 70 % of the committee members were women and 30% were men. The role of the committee members is to play an oversight role and coordinate logistical, storage, as well as the actual distribution of food.
The LSA project fell right in the middle of a global COVID- 19 pandemic but feedback and evaluation from the health department in Manicaland revealed that not even a single COVID-19 statistic was traced back to the WFP/AAZ activities. It is therefore without a doubt crucial to give much appreciation to these women frontline volunteers who ensured the safety of communities and followed all the COVID-19 protocols. The LSA normally attracts large numbers which are risky in the times of COVID-19.
The distribution process could not be successful without the support of the FDP members. The committees ensured that people practised social distance. They ensured the availability of clean water for hand washing at water points. They also work hand in hand with the community health care workers who constantly sanitized the assisted persons and reminded the community of the dangers of COVID-19. As the above-mentioned processes is largely facilitated by women, it is important to appreciate their magnificent work and their major role in the LSA.
As the world celebrates women's month, the necessity and urgency to increase women's inclusion and leadership should be more pronounced than ever. We are also moving towards achieving Poverty Eradication and Gender Equality as part of the global goals to be reached by 2030. It is important to include women and girls in all the structural aspects of the food systems and decision-making platforms as well as ensuring that they benefit from equal rights and equal opportunities