Government urged to address challenges faced by women and girls in the extractive sector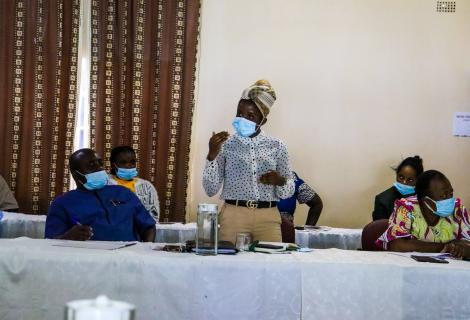 The government of Zimbabwe has been urged to enact policies and laws that ensure a climate-resilient natural resource sector, that is responsive to the needs of women and girls in the mining sector. The sentiments came out from the 6th Edition of the Gender And Extractives Symposium held by the Gender and Extractives Platform comprising AAZ and its partners, Zimbabwe Environmental Law Association (ZELA), The Zimbabwe Coalition on Debt and Development (ZIMCODD), Centre for Natural Resources Governance (CNRG) and the Women and Law in Southern Africa (WLSA) in Mutoko on 23 March 2022.
The symposium which was built on the IWD 2022 commemorations was held under the theme, ''Gender Equality today for a sustainable tomorrow #BreakTheBias.''
Participants from communities affected by mining activities said that revenue generated from taxation must be channelled towards initiatives that will improve the lives of women and young girls through gender-transformative public service delivery.
Issues of tax justice were discussed intensively with participants recommending the enactment of laws that provide for a redistributive Wealth Tax, viewed as an important vehicle towards the attainment of tax justice. 
"As AAZ we are implementing the Fair Green and Global (FGG) which places emphasis on the vibrant result-oriented participation of marginalised groups of mining communities especially women and youth in trade and value chains. This symposium thus created a platform for women and girls to develop advocacy strategies for the transformation of the extractive sector in Zimbabwe," said Darlington Chidarara, the AAZ FGG project coordinator.
Various stakeholders present at the symposium who included the Rural District Council, local Members of the National House of Assembly, councillors, and traditional leaders agreed to continue building capacities of women on climate change issues and set up a disaster risk committee in an endeavour to mitigate the impacts of climate change.
In a communique released by AAZ and the partners, in the aftermath of the symposium, the government of Zimbabwe was called upon to prioritise value addition of minerals such as Mutoko's black granite which is currently being exported in its raw form without undergoing the value addition chain process which is depriving the country of much-needed revenue from end products of the mineral which has been the case with other various minerals in the country.
"There is need for a legally binding Social Cooperate Responsibility law where mining companies will be required to plough back to communities and ensure community development as this is currently voluntary and not mandatory," reads part of the communique.