Zimbabwe Resilience Building Fund (ZRBF) transforming lives in the Zambezi Valley-the story of Opha Mapundo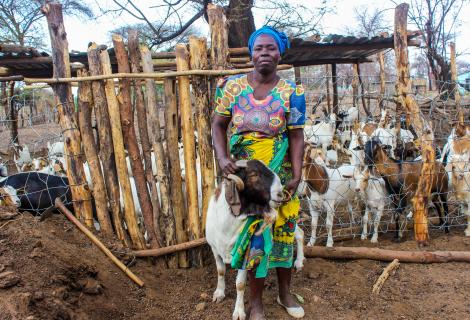 "The new and improved goat breed gives birth to twins or triplets twice a year and at three months we sell them at USD$90usd giving us US$540 a year from each goat," says Opha Mapundo (52), as she holds her first boer goat, she has named James. She received the boer from the Zimbabwe Resilience Building Fund (ZRBF) Zambezi Valley Alliance (ZVA) project. Goat farming has been one of Opha's main sources of income.
Opha who is from Ward 8 Karai, Mbire District, and a mother of seven joined the ZRBF ZVA in 2016. This followed resilient farming workshops and training in goat breeding, pen fattening, Income Savings and Lending (ISALs) and hay layering which were conducted by the ZRBF in her ward.
At the trainings, Opha harvested practical skills that served as an eye-opener as she went on to realize that one could succeed in commercial livestock farming using both natural and artificial feeds. Opha took her first step after the training by participating in the goat breeding scheme where she received James, the boer goat. She also received training on pen fattening and keeping borsch chicken road runners whose projects have improved her standard of living.
From the first boer goat she received, Opha currently has over 50 grown female goats offspring and has sold more than 30 goats fetching the lowest price of US$50 and the highest at US$90. This milestone had never happened in her life as she used to sell the Mashona goat breed at as little as US$15 per goat.
"I never believed that a single goat can be sold for US$90 and never thought of running a commercial enterprise from selling goats. Although we kept goats, we lacked enough knowledge on goat breeding and could not believe that selling goats would transform our lives like this. I thought I was dreaming when one of my goats was paid US$90. Honestly speaking this intervention by ZRBF has changed my life. I no longer rely on my husband for money to buy basic commodities and pay for my children's school fees," said Opha.
From the training she received on pen fattening, Opha has sold over six cattle. She recently put another three cattle on pen fattening and were ready for sale at the end of 2021. The highest amount she received for a single cow through pen fattening was USD$580 and the lowest was US$312.
"Through this fattening project, I have managed to buy a stand in Harare and paid for the construction of two rooms on the stand. I plan to drill a borehole for both domestic and livestock use using some of the profit attained sale of my three fattened cows. We have water shortages and sometimes we fetch it from a nearby river which is full of crocodiles, and we fear for our lives as well as for the livestock," alluded Opha.
Opha's goal is to continue farming to sustain her family and wishes to start a Mbire Livestock Production' a project to cascade to other women farmers in her area the tactics she has obtained over the years from the ZRBF ZVA initiatives. The plan is to increase the capacities of her community in the face of shocks and stresses.
"For the past years we have been growing maize and we dismally failed due to poor climate conditions, and this affected our livelihood. At some point, my family relied on food handouts from the government which was not even enough. My plan this year is to extend help, especially to other women in my community to start their projects starting with goat breeding so that we continually improve so that we obtain more profits," she added.