ActionAid Zimbabwe and FACT donates menstrual hygiene kits to vulnerable school students.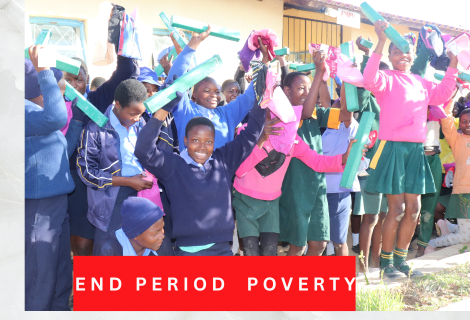 At least about 974 female primary and secondary learners from Manicaland Province in Nyanga, Nyazura, and Chiendambuya received dignity kits in July 2023 which consisted of reusable pads, disposable pads, pants, and washing soap.
The distribution of menstrual hygiene kits was done as a measure of reducing educational gaps because it has always been an obstacle for the girl child from a less economically privileged background to access sanitary wear. Some of these challenges not only negatively impact the girl child's performance in school, but also take away their dignity, self-confidence, and self-esteem.
To fill this gap, ActionAid Zimbabwe (AAZ) and Family Aids Caring Trust (FACT) under the Girl Supporter project donated dignity kits to six schools in Nyanga, two schools in Chiendambuya, and two schools in Nyazura where the project is being implemented. The project is based on the aspiration to create a just, fair, and sustainable world where girls can grow up to become independent women capable of shaping their own lives. The project also fills in educational gaps in relation to advocacy for girls' and young women's rights.
All the students who received dignity kits were taken through a menstrual health talk by the Ministry of Education representatives with also guidance and counseling teachers on the proper use, cleaning, and storage of the reusable sanitary wear.
"I would like to thank you on behalf of other students for giving us the reusable sanitary pads, soap, and pants. Some schoolgirls were failing to come to school because of a lack of sanitary wear to use during their menstrual cycle because of not having anything secure to wear as pads. Most students come from poor backgrounds and they cannot afford to buy sanitary pads and pants. The problem of absenteeism to school during the menstrual cycle by most girls has been eradicated," stated one of the dignity kits recipients in Nyanga.
Ministry of Primary and Secondary Education (MoPSE) Makoni District also acknowledged the dignity packs: "Distribution of sanitary wear is in line with the secretary's circular 1 of 2020 and the Zimbabwe Health Policy. The Inclusive Education Policy draft identifies education barriers including failure to meet gender-specific needs like the provision of sanitary wear and facilities for menstrual hygiene," said Loise Munyawarara.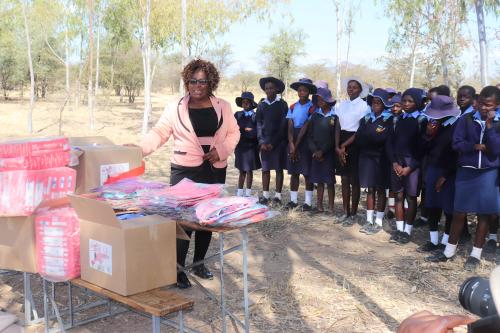 A SNV Zimbabwe study shows that 72% of girls going to school can't afford disposable pads. There is also a high demand for underwear because not all women and girls have access to it https://menstrualhygieneday.org/wp-content/uploads/2022/11/MHH_Zimbabwe-Snapshot.pdf. Menstrual health challenges have become a major contributor to girls becoming school dropouts, poor female learner performance, and poor grades.
Girls need to have their confidence, communication, and leadership skills developed to express these challenges with the appropriate duty bearers for action.
Girl Supporter Project aims to:
(i)         To build girls' agency for the realisation of their rights
(ii)        To create   safe spaces for counseling for young women and adolescent girl survivors of violence
(iii)       To promote gender-responsive service delivery in targeted schools
(iv)       To enhance adolescents' access to Sexual and Reproductive Health and Rights