Tropical Storm Freddy: The Next Wave of Destruction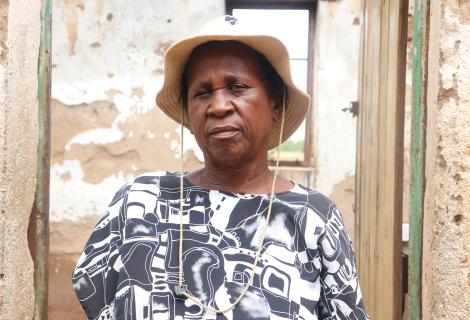 Teclar Chinondiwana's Story
For Teclar Chinondiwana (64) a school teacher based in Ward 29 Chipinge, Cyclone Idai, which devastated her three-roomed house in 2019, leaving her without power and her electrical appliances damaged, was the start of a series of unfortunate events. Before she could recover from the devastating effects of Idai, Tropical Storm Freddy came with another wave of destruction in 2023. Freddy removed the roof, damaged the walls and windows, and destroyed the electric wiring of her house. The place she has called home at Chitepo Primary School was left in an inhabitable state and in need of renovation. 
When Tropical Storm Freddy struck, Teclar was forced to move out of the house as the school feared that the house walls might have gotten weak and may collapse any day. Teclar had to move to a smaller one roomed house with no electricity, where she is struggling to make a normal living. As a result, she had to send her 8-year-old granddaughter back to her parents, disrupting her studies in the process.
"My granddaughter no longer goes to school because there is not enough space for both of us to live in this one roomed house," said Teclar.
Teclar's granddaughter is one of the learners affected by Tropical Storm Freddy in Chipinge district. The other pupils that Teclar teaches also felt the negative impact of Tropical Storm Freddy as they went days without learning because Teclar had to go back to her hometown of Chiredzi to get away from the mental stresses that had been brought by the storm. However, Teclar and her learners, even after the storm, are still disadvantaged. She used to work on her pupils' homework at night and start a new day with other work, but now, because of a lack of electricity, Teclar is now forced to do all the work during the day, which puts pressure on her and the pupils.
Teclar's house was one of the buildings assessed during ActionAid Zimbabwe's evaluation of the effects of Tropical Storm Freddy and a new 7 roomed house is currently being built.
"I am very happy with the work that ActionAid Zimbabwe is doing, and I cannot wait for the new house to be finished so that I can start living a normal life again," she said.
AAZ continues to fundraise to provide long term support to people like Teclar.
According to a report by the International Federation of Red Cross and Red Crescent Societies (IFRC), Cyclone Idai pummelled the Eastern parts of Zimbabwe mainly Chimanimani and parts of Chipinge, on the 15th of March 2019 at night, affecting more than 270 000 people leaving 341 dead and many others missing. 139 schools were affected, 33 primary schools and 10 secondary schools were temporarily closed, and 9 084 learners were affected. These are the effects that Tropical Storm Freddy exacerbated. Tropical Storm Feddy affected several schools in Chimanimani and Chipinge districts as roofs were blown off due to incessant rains and heavy winds, and three people were reported dead.
ENDS