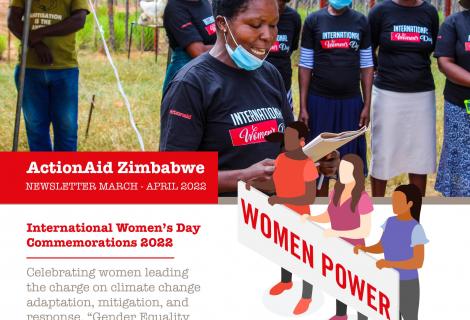 ActionAid Zimbabwe Newsletter March-April 2022
International Women's Day Commemorations 2022. Celebrating women leading the charge on climate change adaptation, mitigation, and response. "Gender Equality Today for a Sustainable Tomorrow"
Downloads
The IWD is about celebrating the social, economic, cultural, and political achievements of women and at ActionAid, we embrace the uniqueness of women and side with them to take up leadership and decision-making positions in all spheres of life. This is evidenced by our strategic direction in supporting women-led humanitarian responses, the adoption of feminist, green, and just economic alternatives, and advancing the provision of gender-responsive public services by the government.
The theme for this year's IWD was "Gender Equality Today for a Sustainable Tomorrow: #BreakTheBias". Globally, women are increasingly being recognized as more vulnerable to climate change impacts than men because they constitute the majority of the world's population, whilst most of them live in poverty and are dependent on the natural resources which climate change threatens the most.
For ActionAid Zimbabwe (AAZ), the International Women's Day is no longer any commemorative day, instead, the whole month of March and our entire development programming remains focused on celebrating and appreciating the important role that women play in development (productive, reproductive, and unpaid care work responsibilities) world over which become the focus of our March-April 2022 Newsletter. Enjoy Reading!